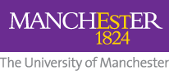 Home
School-University Partnership Initiative (SUPI)
RCUK School-University Partnership Initiative
The Research Councils UK (RCUK) funded School-University Partnership Initiative (SUPI) is a scheme which provides opportunities for schools and universities to bring contemporary research to life for young people and serves as a network supporting schoolteachers and staff across the University.
Our key aim is to communicate what research means across a variety of academic disciplines, while clarifying the processes and skills involved not only in gathering knowledge, but also in creating new knowledge. Our belief that research has social and cultural, as well as economic value, underpins the project.
Working with schools within Greater Manchester, we seek to inspire the next generation of researchers by bringing secondary and sixth-form students, research staff, and teachers together. The Initiative continues to enable young learners of all backgrounds to discover what it is like to be a researcher, to develop the necessary skills of inquiry and to learn about the opporunities for study and career development which a univeristy provides.